I have just returned from a 9-day road trip through Northern Laos on my Versys. In this write-up, you'll find all information on how to cross the border by motorcycle. All the information below is relevant in FEB 2023. Given the fickle nature of Vietnamese regulations, best to double check everything before you head for the border.
Disclaimer: The contents of this write-up are derived from my personal experience. Your own experience might vary, as border officials often consider each case individually when allowing border crossings, particularly for foreigners. Additionally, if the bike is not registered in your name, you might encounter some difficulties.
Update 11/2023: It seems that crossing the Na Meo border gate with a motorbike or motorcycle is currently restricted. There have been reports indicating that customs now mandates a cross-border permit for these vehicles. Similar feedback is mirrored in the reviews on Google Maps.
Visa
During the Covid pandemic, Laos closed its borders and stopped issuing visas at land borders. At the moment of writing, the borders have reopened, but it's still not possible to obtain a visa on arrival at the land borders. Laos also issues eVisas , but they are only valid at the international airports (Vientiane Wattay Airport and Luang Prabang Airport) and a few land border crossings with Thailand. So, the only way to cross the border by land from Vietnam is by getting your visa in advance.
You'll need to head to the Embassy of Laos which is located in the heart of Hanoi. Contact details can be found HERE, but I wouldn't bother. I tried contacting them by email and phone, but to no avail. In any case, it doesn't really matter because all you need to do is to show up during the opening hours: 08:00AM – 11:30AM & 01:30PM – 04:00PM (Monday through Friday).
The visa procedure couldn't be any simpler. You'll need:
(1) a passport with a minimum validity of 6 months
(2) one 30x40mm ID picture
(3) 40 US$ or 1.000.000 VND
I showed up at the embassy at 9:00AM, filled out the form, glued my ID picture on it and handed over the form to the officer at the counter. When I handed over the form, the guy told me to come back at 3:00PM to pick up the visa. Simple as that. I ended up paying 40 US$.
According to the official announcement of the Embassy, the cost of the visa (single entry, 2 months validity as from the application date) is 35 US$ or 875.000 VND. The express service fee (same day issuance) is an additional 5 US$ or 125.000 VND.
Border Gates
As we established, you'll need to present yourself visa in hand at the land border gate. So, which gates can you go through? The international land border gates between Vietnam and Laos are as follows (from north to south):
1. Pang Hok (LA) – Tay Trang (VN)
2. Nam Soy (LA) – Na Meo (VN)
3. Nam Kan (LA) – Nam Khan (VN)
4. Nam Phao (LA) – Cau Treo (VN)
5. Na Phao (LA) – Cha Lo (VN)
6. Dansavan (LA) – Lao Bao (VN)
7. Lalay (LA) – La Lay (VN)
8. Phu Kuea (LA) – Bo Y (VN)
I put emphasis on "international" for a reason. If you are a foreigner trying to go through a land border gate, you should go through one of the eight borders gates above. There are other border gates, but they are presumably only for locals. You can find the full list of international border gates HERE.
I exited Vietnam at Na Meo border crossing gate and entered Laos on the other side at Nam Soy border gate. On my return, I exited Laos at Pang Hok border gate and entered Vietnam at Tay Trang border gate near Dien Bien Phu (there's a 2,4 km stretch of road between both gates). Pang Hok and Tay Trang are open every day from 7:00 AM till 8:00 PM.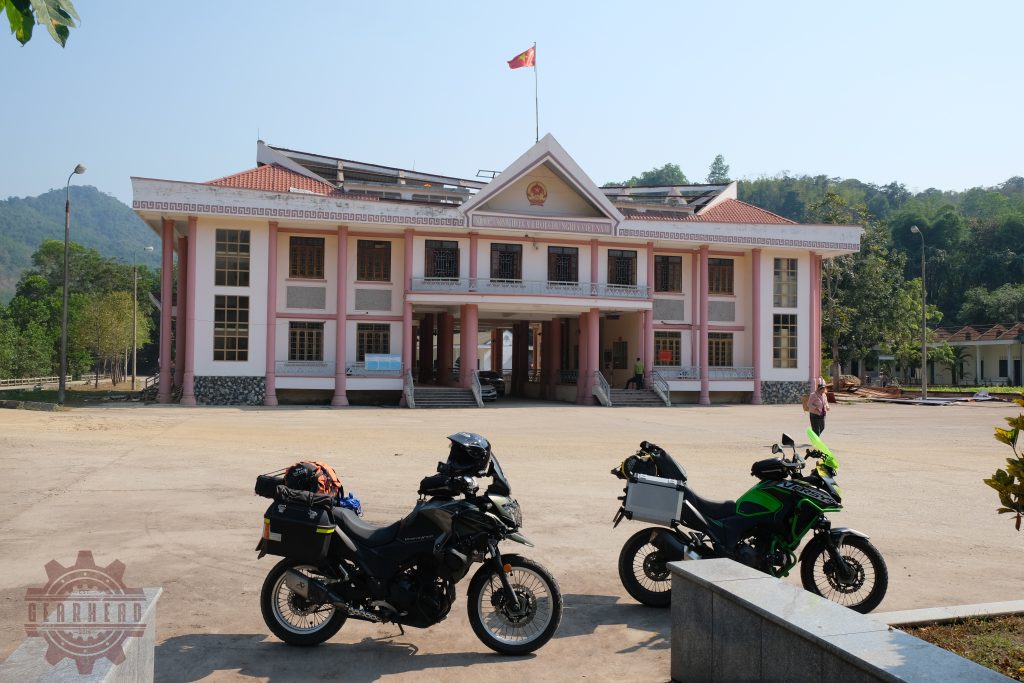 Once you reach Pang Hok border gate, you won't be able to get gasoline for another 20 km. I was running extremely low on gasoline, and limped my way through the border gates until I could find a gas station. The first gas station was out of stock, so I had to drive yet another 5 km to the next one… What an ass-puckering experience…
Border Crossing
I experienced first hand how tricky exiting Vietnam by motorcycle can be. In 2018, I crossed the border into Cambodia and it didn't go very smoothly. In an attempt to wring money out of us, the officials came up with several excuses to not let us cross, like "you don't have insurance to ride your bikes in Cambodia" or the infamous "you don't have a cross-border permit for your bikes". It finally took me 2.5 hours to get the paperwork sorted and convince the border official to let me exit Vietnam. On the Cambodian side however, it only took 15 minutes to fill out the form and slip in a 5 US$ note to enter the country.
It is indeed true that vehicles crossing the borders between Vietnam, Laos and Cambodia need a cross-border permit. This permit is some sort of a passport for the vehicle and usually comes with a validity of 6 months. You need to apply for this permit in the province where you will be going through the border gate. Circular 88/2014/TT-BGTVT stipulates the regulations related to cross-border traffic. However, it does not mention that the permit is required for motorbikes (<175cc) or motorcycles (>175cc). Two agents in Thanh Hoa province also confirmed this.
Update 11/2023: regulations may have changed and it appears that customs is now also requiring this permit for motorbikes and motorcycles.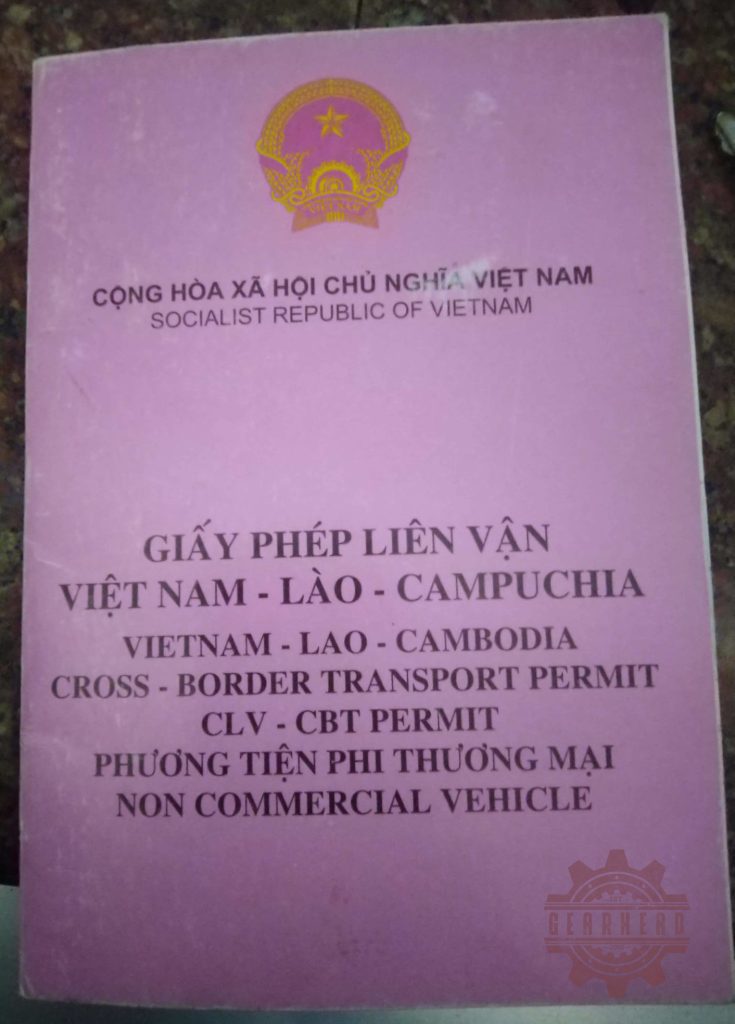 Back to my Laos trip: To exit Vietnam, you will need to get two things: (1) the temporary export permit for your bike and (2) the exit immigration stamp in your passport. For the first, the customs officer asked for my passport, the bike's registration certificate and a fee of 100k VND. The permit is basically a piece of paper that mentions your personal and your bike's details.
Once that is done, you can drive to Nam Soy border gate and repeat the process. Here, you'll need to go to the first counter to get your passport stamp, then head for the customs counter to get the temporary import permit. Total cost here is 30k LAK for the immigration stamp and another 60k LAK for the permit.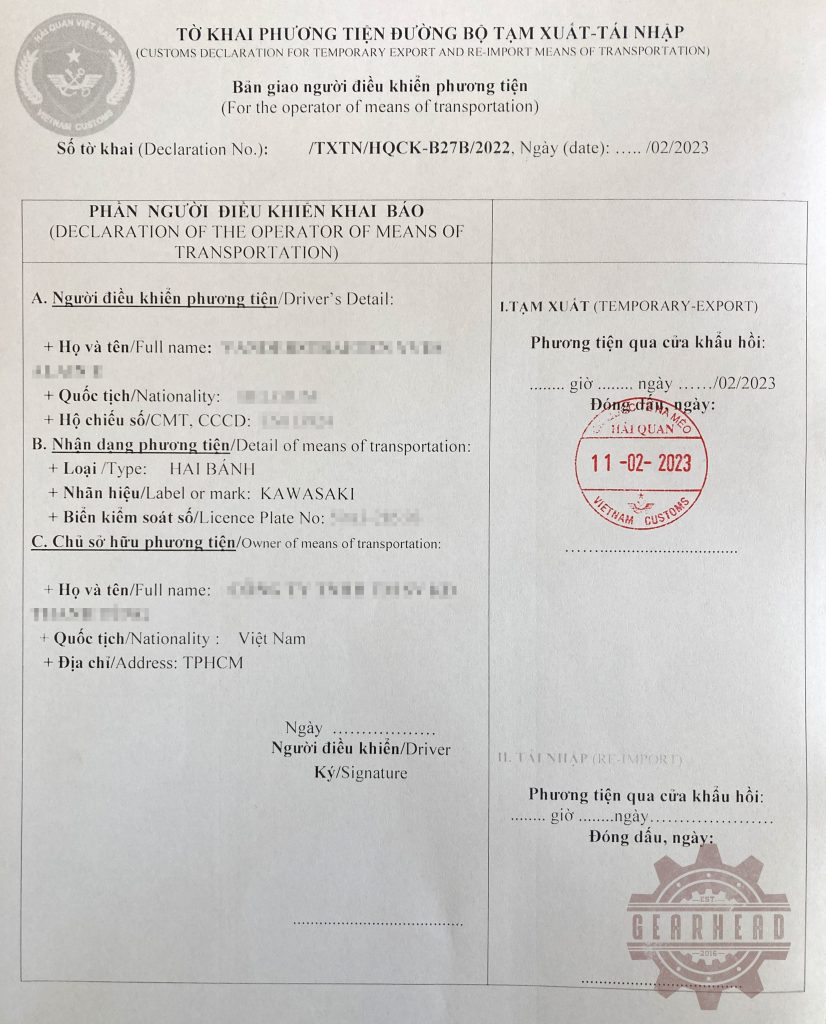 Note: Unlike in Cambodia, I was not requested to choose an exit border gate in advance in Laos.
So, that's it for the border crossing. More on Laos in the next post!