After 2 years and 24,000 km of loyal service, I took the Versys-x in for a major overhaul. Here in Vietnam, usually the guys will carry out the work you specifically ask for. You ask for an oil change, you'll get an oil change. If you forgot to mention you also wanted a new filter, then chances are that they left the old filter in.
Anyhow, I took her in on a Saturday. The mechanic tells me that he will inspect the bike first and then let me know what needs to be done. I had drafted my own list, but why not? Let's see what he comes up with. On Monday morning, he sends me the following…
Change oil and oil filter (Motul 300V, as always)
Change fork oil
Change brake fluid
Clean or replace air filter
Change coolant
Clean fuel injection system
Pretty much spot on. I also asked him to check the valve clearances and replace the spark plugs with the NGK CR8EIX Iridium plugs I had already purchased (you can read more about it here).
I specifically told the guy just to clean and lube the chain, even though they need to be replaced. I am hoping to get another 1,000 km out of it… More on the chain and sprockets below…
When I got her back, she felt much smoother.
Air Filter
To the best of my knowledge, I never had the air filter replaced. I did have it cleaned once or twice, but the last time was a while ago… So when we opened the airbox, the filter looked downright disgusting. I figured it was better to replace it this time and clean it every time during an oil change (I am doing 5,000 km intervals). The part number for the air filter element is 11013-0762 and costs approx. 12 USD (280,000 VND in Vietnam).
Fork Oil
The longer I was riding, the more I was bottoming out (off road obviously). This is due to the breakdown of the oil viscosity. The more the oil breaks down, the worse the damping action of the forks (the oil becomes more liquid). The manual doesn't mention any set interval to change the fork oil, just an inspection every 12,000 km. Replacing the fork oil worked wonders for me. I tend to forget how much work the suspension actually does… So, if you're bottoming out frequently, an oil change may be in order.
Spark Plugs
I was reading the instruction manual a while ago, and I noticed that Kawasaki recommends replacing the spark plugs every 12,000 km. Then, it occurred to me that I had nearly done double the mileage with the factory plugs. And then I started to freak out and ordered a set of NGK Iridium IX plugs. I was way overdue.
I asked the Kawasaki mechanic to install the plugs, as he was doing the major service anyway. I specifically told him not to throw away to factory spark plugs, as I was eager to see what they would look like after 24,000 km of action. To my surprise, they still look in great shape.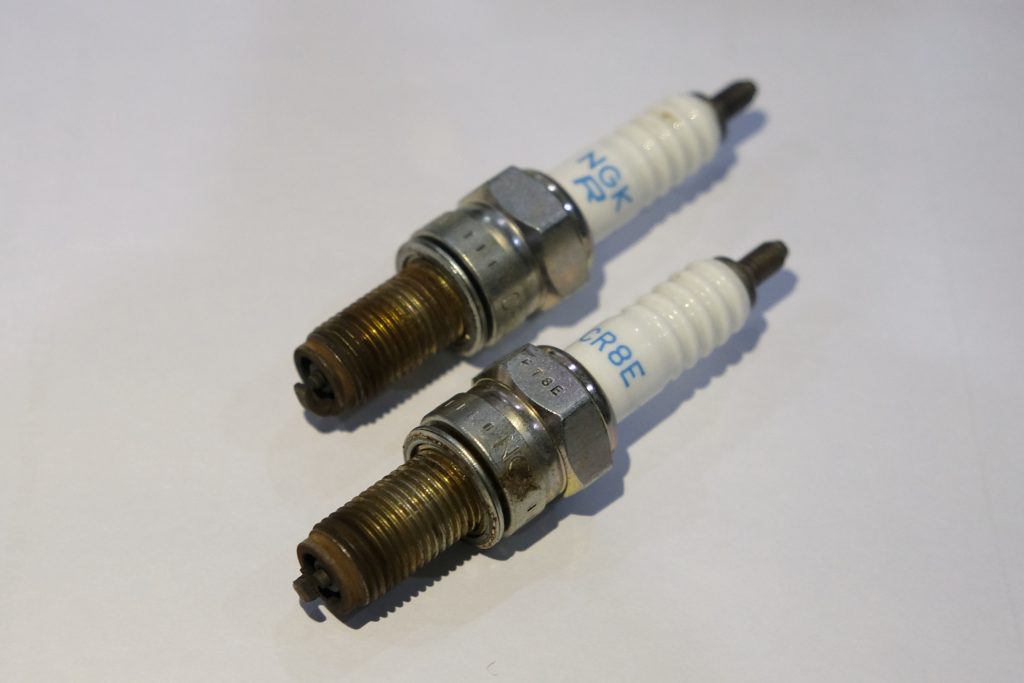 It's safe to say that Kawasaki is playing it, well… safe. I am keeping these plugs as spares, just in case. Now I am running the Iridium plugs and intend to keep them for at least 30,000 km.
Chain and Sprockets
The Versys-X uses a 520 chain with 112 links. I am not sure what brand it is, but some links have an "R" in an oval stamped on them. It's a standard O-ring chain without an anti-corrosion treatment. So, the chain will rust if you don't take good care of it. All in all, its build quality is pretty cheap as far as drive chains go.
Yet, it has held up surprisingly well. There's little rust to be seen (even though it's heavily oxidized), no hard spots and no O-ring failures. I lubed it regularly but didn't clean it so often, fearing the bristles of the brush would damage the O-rings. At this point, the counter sprocket is showing significant wear and the whole drive chain has become very noisy. The chain and sprockets will have to be replaced soon (hoping to hit 25,000 km nevertheless).