The Versys-X is the offspring of a Versys 650 and Ninja 300. It combines the powerplant of the baby Ninja with the versatility of the bigger Versys. As far as dimensions go, the Versys-X is similar to her bigger brother, the Versys 650, while weighing about 35 kg less.
The Versys-X has been on the market for about 2 years, yet no one has posted a long-term review. So I figured it would be useful to put in writing my ownership experience over the past 20,000 km.
Owning a Versys-X, here is what you need to know…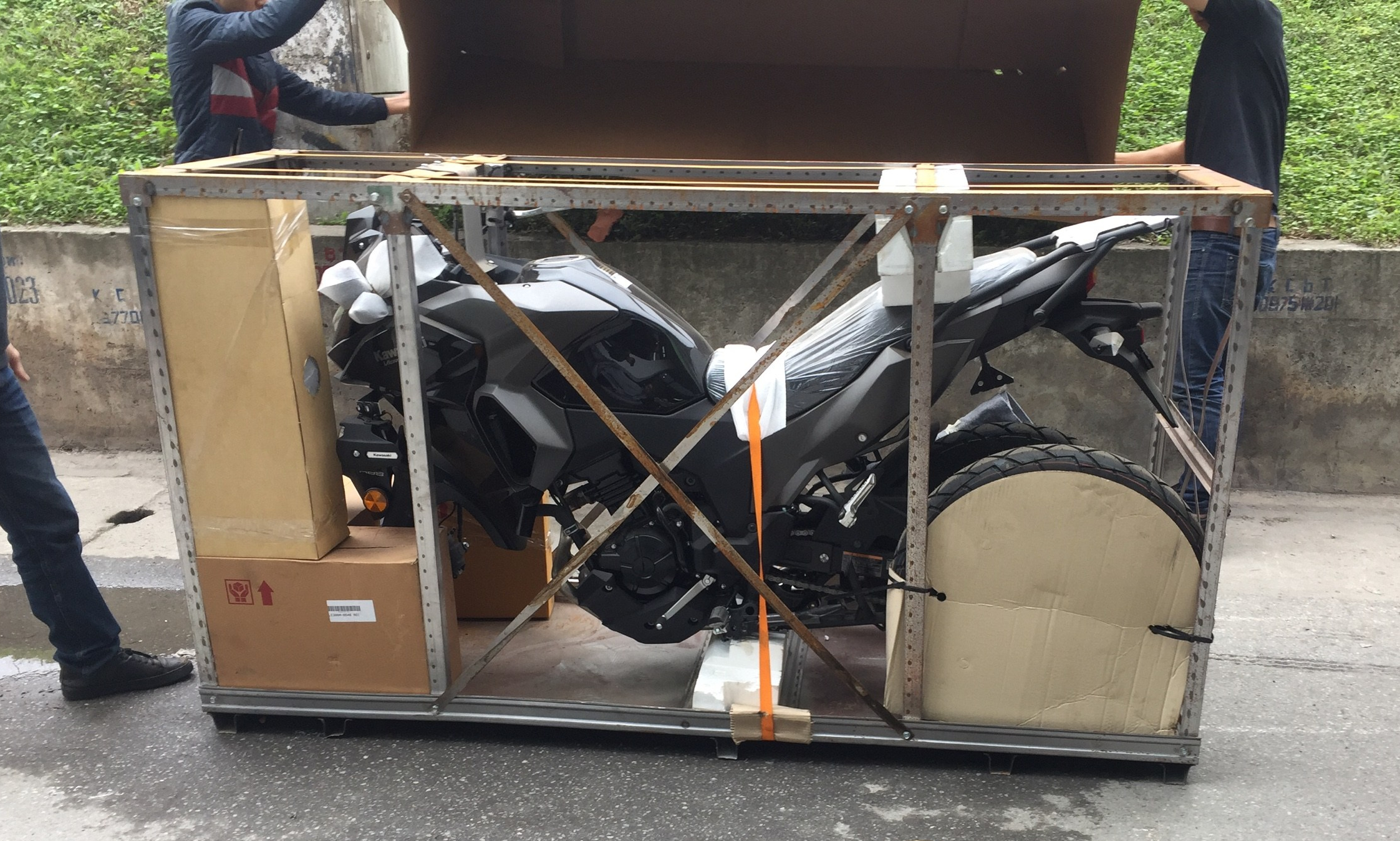 Engine
The day I picked up the bike at the dealership, I fired up the engine and took it for a quick spin. A mere 35 km later, I was back at the dealership asking the Service Tech to have the oil and filter changed. My first hard break-in…
Why a hard break-in? Simply because I knew I wouldn't have the patience to follow the break-in procedure in the owner's manual. It just felt overly cautious to me (not to mention that staying below 4k rpm on the baby Versys is just impossible). Engine has been running fine ever since, although I don't have any oil analyses to back my statement: no funny noises, no smoke nor any excessive fuel or oil consumption.
Ever since I have religiously followed the service intervals (oil change at 35 km, 1,000km and every 5,000 km afterwards). I only use Motul 300V 10W40 oil and the OE oil filter, changing it at every oil change. I check the oil level before each ride and never had to top up the oil in between oil changes.
Note: the manual states 2.2L are required for an oil change. However, I have always found this to be too little. It's closer to 2.4L if you want the level to be in the middle of the looking glass.
It took me a while to get used to revvy engine. You're almost always in the 6-7k rpm range due to the short gearing. The engine starts to make decent power as from 6k rpm. Peak power is at 11.5k rpm and peak torque at 10k rpm! You can rev it all day long.
Note: the engine temperature gauge often reads 5 out of 6 bars. This is normal (ambient temperatures here are often in the mid-thirties Celsius). Now, I don't think the engine runs particularly hot. I think it's related to the scale of the gauge where each block only represents a few degrees of difference in engine temp.
Gearbox
The gearbox is very pleasant. Shifts are quick and crisp. The bike has a slipper clutch, providing a super light clutch feel. It almost feels like there's nothing connected to the end of the clutch cable… The role of the slipper clutch is to prevent you from locking up the rear tire when downshifting aggressively. It helps, but doesn't prevent it entirely.
Gearing is short, especially 1st and 2nd gear. First gear is pretty much useless on the street. You can use 2nd gear from a dead stop. Off road however, 1st gear can come in handy on very steep inclines. Surprisingly, despite the lack of torque down low, the engine doesn't stall easily.
I do like 3rd and 4th gear which pack a lot of punch at decent speeds. The bike is a joy to drive on twisty back roads and feels happiest between 80 and 110 km/h. However, I never seem to be in the right gear in city traffic, always shifting back and forth between 3rd and 4th.
I am still running on the stock sprockets and chain. They're holding up nicely. I lube the chain approx. every 1,500 km and clean it every 4,000 km (probably not enough). No hard spots in the chain so far.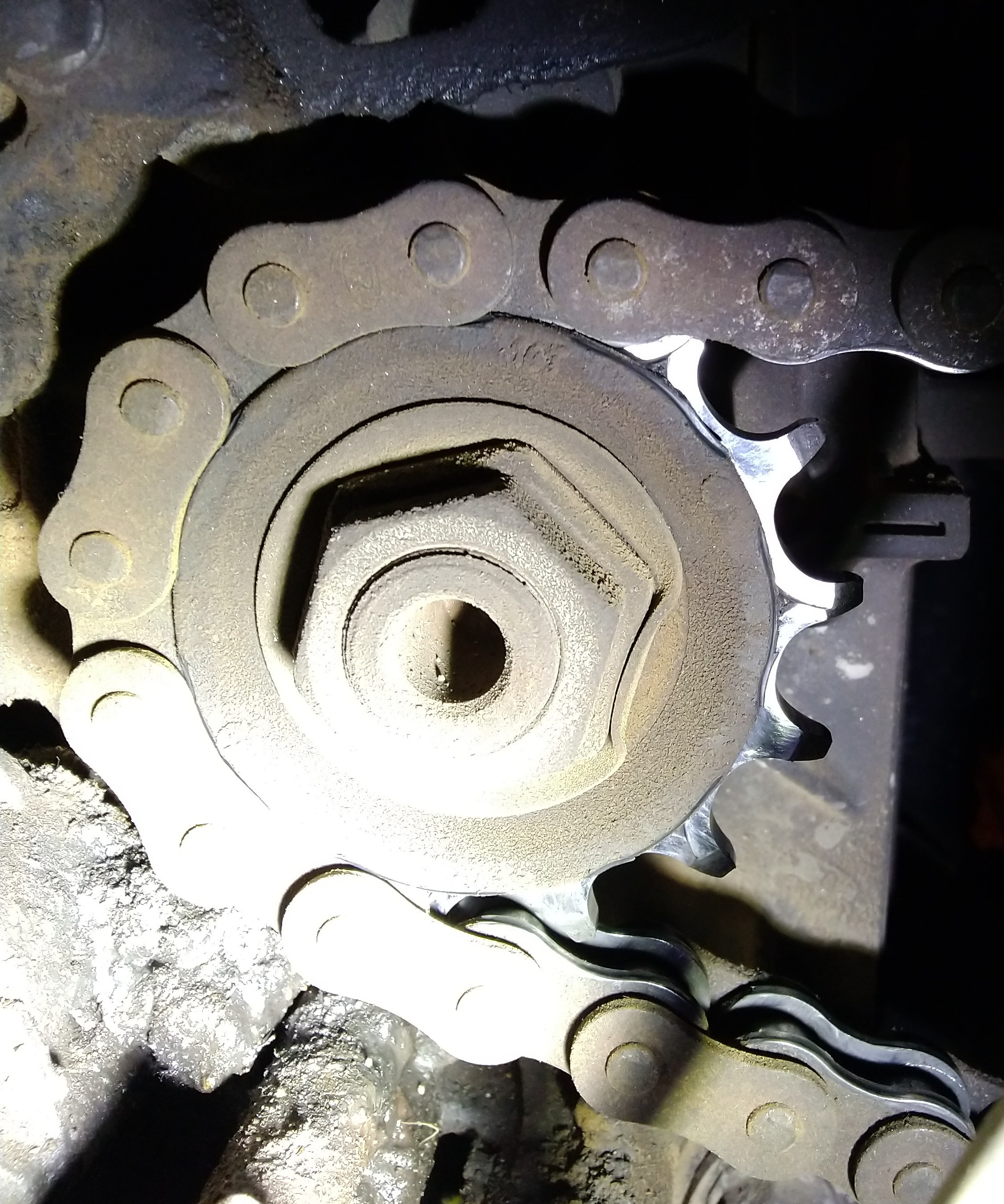 I aiming for 25,000 km before changing the sprockets and chain. At that point, I'll upgrade to a 15T counter sprocket, as recommended by many of you out there.
Body & Ergonomics
I got all the OEM bells and whistles: crash bars, fog lights, center stand, side boxes, etc. Everything has aged very well so far despite the harsh climate conditions (lots of dust, heat and high humidity). Black paint is peeling in a few spots, which is a bit disappointing. But otherwise, the overall quality of the parts and assembly are high. As for the plastic panniers, they look flimsy. I must say I was a bit disappointed when I first saw them up-close. However, they have held up just fine, despite the occasional drop on the side. I just wish they were a bit bigger (only 17L).
Heat from the radiator is directed towards the lower legs. So you never experience any heat soak, even when coming to a dead stop or riding at low speeds. I always wear protective gear, so my legs are protected from the engine heat. You'll definitely feel the heat with a simple pair of jeans though.
The ergonomics of the X are fine from the factory. The seat is hard and it doesn't get any softer over time. Either live with it, or get an upgrade. For those of you who like to go on road trips will be looking at an upgrade.
The windscreen is okay. I would prefer a slightly taller one as my helmet gets caught in the turbulence it creates. Still, overall wind protection is decent.
The foot pegs have rubber inserts to minimize vibration. And they do this wonderfully. However, that's about all they do. I like to stand, and with my weight on them they become squishy and unstable.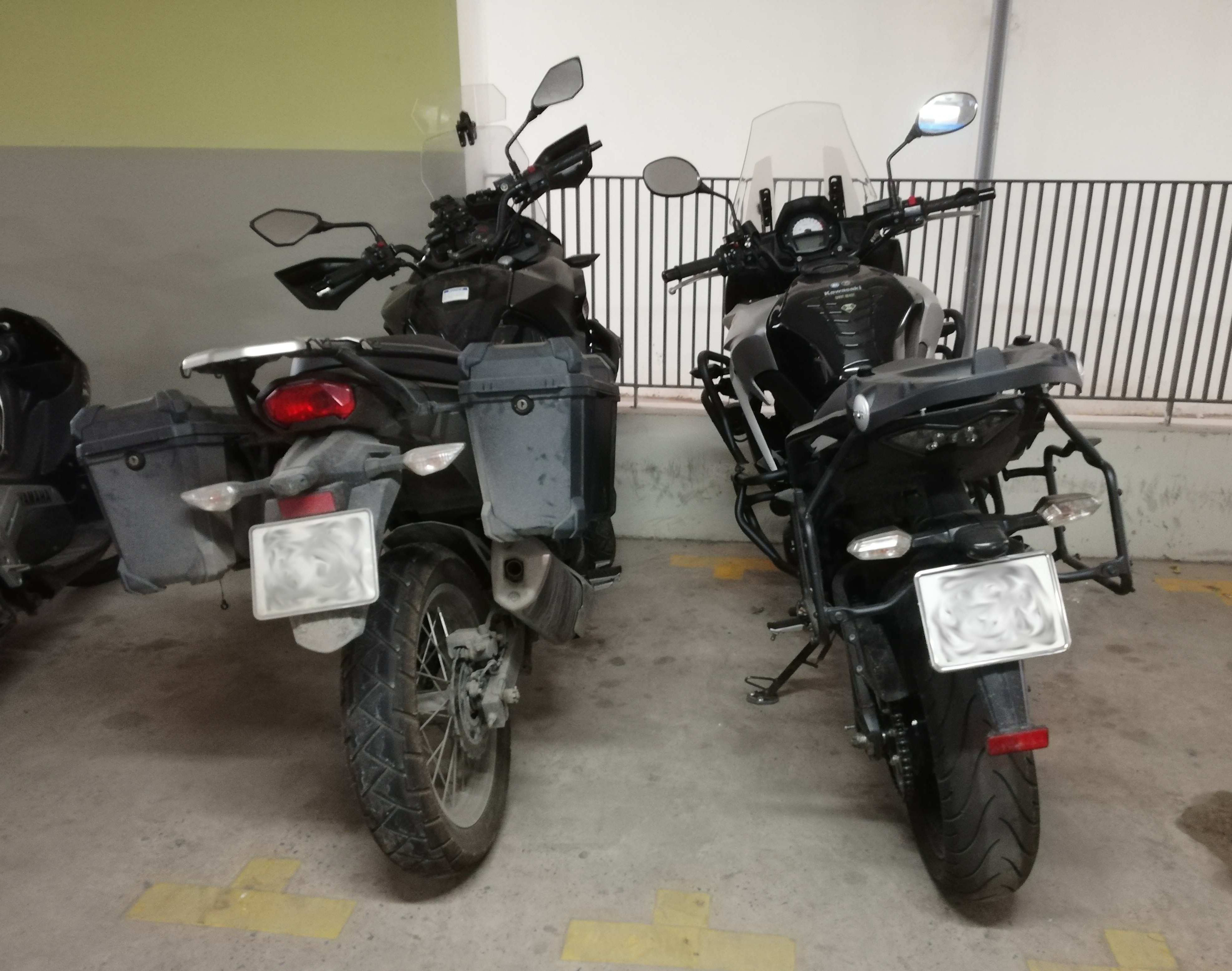 Brakes & Tires
Nothing noteworthy to say about the brakes: they suffice. Single 290mm rotor in the front, single 220mm rotor in the rear. They provide sufficient stopping power and are never overwhelming. Brake feel is about average which, I guess, is partly due to the rubber brake lines.
The most annoying aspect of the braking system is the "unswitchable" ABS system (always on). Not being able to switch off the ABS (especially in the rear) is a major shortcoming. I ride off road 40% of the time, so you can feel my pain. On the street, the ABS rarely kicks in, especially in the front. Maybe I don't ride it hard enough.. The first set of front pads lasted 14,000 km, while the rears did 20,000 km.
The stock IRC tires are rated 80/20. Great on road, not so great off road. You can easily scrape the foot pegs in the dry with these tires. I replaced them at around 15,000 km. They still had about 5k km of life left in them, but I needed a dual-sport tire.
Suspension
The suspension setup is simple. In the front there are 41mm non-adjustable forks. In the back, the rear shock offers pre-load adjustment (but I've never touched it). It's simple but it works for me. Obviously the Versys-X isn't as sharp as the Ninja, but you can still carry a whole lot of speed into corners. And when you do, it never gets too wallowy over bumps.
The Versys-X pretty much handles most road conditions. She was never designed to be a hard-core Enduro bike, and Kawasaki never advertised it in such a way. From my experience, she is quite competent off road. The suspension could do with some more travel, as I do bottom out from time to time. In these first 20,000km, I haven't done any maintenance on the forks so far.
Overall Conclusion
Nearly 20,000 km in 18 months. My love for this bike just keeps growing. It's quick enough (I am in Vietnam, after all) and predictable. Besides a blown indicator bulb, I have had zero issues in the course of these 18 months. To be honest, I wasn't expecting anything less from Kawasaki. It was one of the reason why I bought a Kawasaki in the first place.
My heart longs for a BMW 1200GSA whenever I see one, but as soon as I rev the hell out of the Versys-X that feeling quickly fades away. You can wring the hell out of it and not necessarily kill yourself. The same can't be said of a liter bike. And that is where all the fun lies. Combined with its light weight, it is a pure joy to ride. Anywhere. Any time.
Unfortunately, this bike is judged too easily by its small engine. Don't let that fool you. The engine is very willing and has plenty of character. It sounds better than a Ninja 300. Actually, I think it rides and sounds better most of its direct competitors*. Some riders don't know what they're missing…
*I have ridden the TRK502, GS310 and CB500X.